Zhineng Qigong was created by Dr. Pang Ming, an M.D., a Doctor of Chinese medicine, and a Qigong Grandmaster (there are only a small number of Qigong Grandmasters in the world). He studied qigong under 19 different Grandmasters, and in 1979 he developed Zhineng Qigong as a result of his search for more powerful ways to help his patients heal.
Dr. Pang has written many books on Zhineng Qigong. He not only created Zhineng Qigong, which is easy to learn and highly effective, but has also written the "Integral Hun Yuan Theories" and introduced the use of the Qi-field to teach qigong and to treat patients.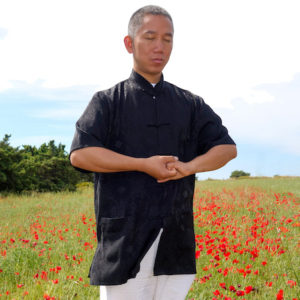 Master Liu began studying traditional Qigong at age 8 and was considered a child prodigy. He completed a masters program at the Hua Xia Zhineng Qigong Center under the direction of Grand Master Pang He Ming. Master Liu became an instructor there and has practiced Zhineng Qigong for the past 29 years.
Master Liu selflessly devotes his life to offering the benefits of Zhineng Qigong to people around the world. As well as teaching around the world, Master Liu regularly conducts Certified Teacher training and healing retreats in his home city of Meishan, in Sichuan Province, China.
For more information go to www.lifeqicenter.com
---
About the ZQ Educational Corporation
ZQ Educational Corporation was formed by three Zhineng Qigong teachers for the purpose of teaching others to become aware of their abilities to improve their own health and well-being through the meditative practice of Zhineng Qigong. We do this through presenting workshops in cities around the US, organizing retreats to China, as well as offering books, CDs, and DVDs by well-known teachers of Zhineng Qigong. Additionally we present the Zhineng Qigong Worldwide newsletter.
ZQ teachers Debra Weisenburger-Lipetz (Columbus, OH), Russell Crenshaw (Louisville, KY) and Sue Ashwell (St. Louis, MO) serve currently as officers.
ZQ teachers Deborah Lissom, Jan Lively and Debra Weisenburger-Lipetz founded the ZQ Educational Corp. We honor and celebrate their vision and contributions for growth and development of a worldwide Zhineng Qigong community. Deborah Lissom and Jan Lively are remembered fondly, memorialized by Ginkgo and Colorado Blue Spruce trees planted at Oakwood Retreat Center.